KENYA
TANZANIA

MALAWI
Translate this page:
You can translate the content of this page by selecting a language in the select box.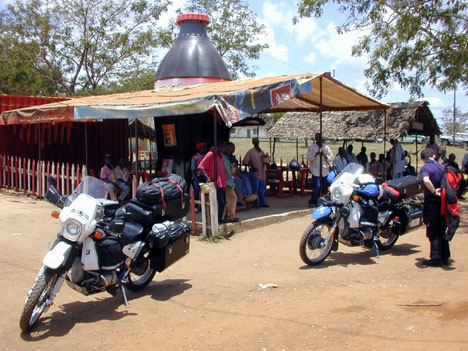 Kenyan-Tanzanian border post
| | |
| --- | --- |
| Old town Zanzibar | Port Jesus old fort Zanazbir |
In many respects leaving Nairobi was, in some ways, the kick off point of this trip. We knew that, as far as Egypt, the roads would be good, as indeed they were and that beyond that we would be into more uncertain territory as regards roads, accommodation, e.t.c. The fact that we had to fly over Sudan circumvented some of worst roads on our journey and even though we have not travelled them all yet its probably safe to say that the roads of the African sub-continent south of Nairobi are good. Leaving Nairobi, however, there was more of a sense of adventure about it all than we had experienced to date. We knew from having visited the Masai Mara that the Kenyan roads, even though sealed, were in a very poor state with large potholes that could do serious damage were we to run into them. This indeed proved the case on the road to Mombasa as it is the highway of supply, not only for Nairobi, but also Uganda and Rwanda as it carries very heavy traffic. After the halfway point, however, there is an excellent stretch of road build by the Chinese. Riding along this section we came to an area not unlike Monument Valley and in the distance we could see Kilimanjaro. We were under the impression that the Chinese road covered the entire second half of the trip to Mombassa but 60km out it deteriorated again to a very poor state, not only pot-holed but deeply rutted. When we arrived in Mombasa we stayed at the Orchard Bay hotel as recommended by the B.M.W dealers in Nairobi. It was beautifully situated on the creek overlooking the island and it was a very relaxing place to stay.
| | |
| --- | --- |
| Tailor in zanzibar | Peddler in zanzibar |
Mombasa itself is on an island and it's infinitely less threatening than Nairobi. We walked around its bustling back street markets and never once felt threatened. The old Portuguese port Jesus was worth the tour as was wandering through the town. There were far more back-packers and tourists to be found here than in Nairobi. On the morning we left I had the cold, probably due to the fact that the temperature had again risen to the mid thirties and it was humid. Heading south from Mombassa the road was good, probably because it is not a commercial supply route like the Nairobi road and therefore had little or no traffic. Along this road are picture postcard beaches of white sands and palm trees like Dani and the whole area with its flat road and palm forests seems like the Philippines. When we reached the Tanzania border, in sharp contrast to our Cairo experience, it only took us one hour to get through both customs. The next 70 kilometers of the road was our first encounter with dirty roads since leaving Ireland. Since the weather was so good, however, they were bone dry and not corrugated so we could fly along them at 80 to 90km per hour. It was really a good feeling going along through this jungle section of palm trees and thick undergrowth with simple huts by the side of the road and every now and again we would view the Indian Ocean as it wound its way in and out through lagoons.
| | |
| --- | --- |
| Tanzanian dirt road near Tanga | Bridge construction Tanzania |
At Tanga, the dirt road once again gave way to paved road and we stopped here for lunch. We toyed with the idea of staying overnight here but as the hotel was booked we decided to push on for Dar-es-Salaam. Because of the good roads we made it before nightfall and it proved a pleasant surprise to us after Kenya. We both had been of the impression that Nairobi would be the last bastion of civilization until we reached South Africa but Tanzania proved quite different for us. Perhaps like Malawi, because it has hit rock bottom and has nowhere to go except up, there is a far tidier and prosperous impression about the place. Obviously, John and I are living a very privileged life style and only seeing the better " touristy" side of these places in many cases and inevitably there is a great poverty and just below the surface of even the affluent areas where tourists frequent. Nonetheless, we feel Tanzania and Malawi are better countries to pass through than Kenya.
| | |
| --- | --- |
| Beach near hotel Dar es salaam | Dar-es-salaam |
Doctor Livingstone plaque to missionaries Zanzibar
Motorcycle repair shop Zanzibar
Dar-es-Salaam is a spread out city with no real centre as such. The first hotel we found was too dear so we were directed to the Q.Bar in Oyster Bay, which proved a lively spot, frequented by Europeans. From Dar-es-Salaam we took a boat over to Zanzibar. It was interesting for me to see Livingstone`s house here, as I once lived beside his house in Hadley Wood in North London and the contrast of those two worlds was a real insight. Obviously this whole area has great potential as a tourist destination with beautiful beaches, diving and ideal weather for winter breaks. This is reflected by the hotels, which are expensive for foreigners, and again another unexpected aspect of Tanzania as we heard that it would be cheap. On the day we left Dar-es-Salaam, the 22nd October we encountered rain , the first since leaving Ireland. We decided to try and cross Tanzania in two days as there seemed nothing of great interest to hold us between Dar-es-Salaam and Malawi. Again the roads we excellent but en route we hit roadworks. This involved, as it does in this part of the world, a temporally dirt road running parallel to the section being repaired. In this case the section had been repaired but not yet opened and was only blocked by barrels which our bikes squeezed through. Consequently we drove on the new unopened road, which was a pity as coming through one section we saw another motorbike couple taking the dirt section but just missed them by the time we arrived.
| | |
| --- | --- |
| First sight of Zanzibar where slaves were sold | Wooden bridge in Malawi |
Outside of a lone rider we met crossing the Tunisian desert and another couple on a B.M.W.G.S., which we saw in Nairobi but failed to contact, these have been the only overlanders we have encountered. While we were stopped for lunch in Morogora the skies opened and we had our first and last rain to date. As the roads were well surfaced it proved no hindrance to our progress and had dried out after another hour and a half. Between Morogora and Iringa I saw a sign pointing to a Concern Camp and it seemed like a million miles from anywhere. The people who work in those places make great sacrifices. At our overnight hotel in Iringa, which seemed to be the only half decent one in town, we inevitably met other Europeans and one lad from Portugal who was living there for years and working in the tobacco industry. He told us all about Malawi which was of interest to us as that is our next destination.
KENYA
TANZANIA

MALAWI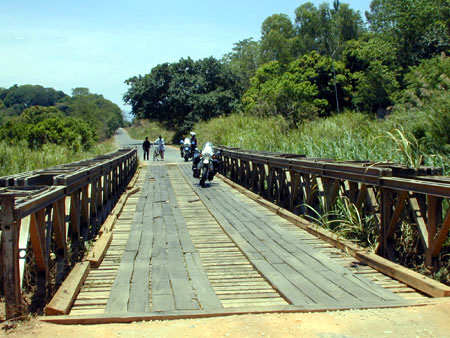 Wooden bridge on road in Malawi