MEXICO
THE USA

AUSTRALIA
Translate this page:
You can translate the content of this page by selecting a language in the select box.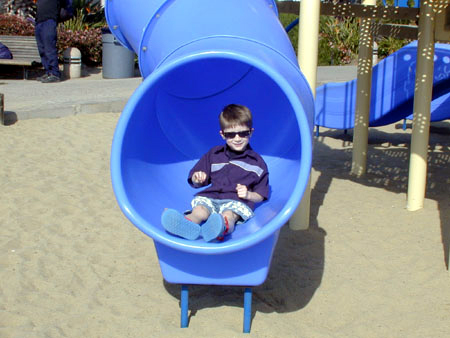 John Wilson's grandson Jon

As promised the storm hit the coast that night while we slept. By morning , however, it had gone. It was at this stage that we parted company with Bob. John and I had to go up to Irv Seavers, the B.M.W. dealer in Orange County while Bob had to go to Long Beach where he stored his bike before heading back to the Arab Emirates for a few months. Bob had been with us effectively from Buenos Aires and it was a big gap when he left as it felt like he had been with us from the start. He is a great person to have along on a trip and we both missed his company. Coming into L.A. the dry freeway which John and I had been motoring up suddenly turned into a river of spray as the skies opened. As I commented on before any unknown city is a strain to come into but L.A. with its endless highways was going to be even worse. To now have nil visibility and being pushed along at high speed on an 8 lane freeway not knowing where our turn off was felt intimidating to say the least. We survived it , however, and as if on queue the rain stopped as we pulled into Irv Seavers. We had called there so as to collect crates with which to freight our bikes to Australia. I also bought all the parts necessary to carry out a service on my bike. As it was now leaking oil badly into the drive shaft and coupled with the other problems with leaking head gaskets etc., I decided to crate it with Johns the next day and service it in Australia where the costs would be cheaper.
| | |
| --- | --- |
| The hills in L.A 2003 | A beach in L.A. |
| | |
| --- | --- |
| Disney 2003 | John's wife Margaret |
While waiting for John's wife and family to arrive we took a tour of the city, visiting all the clinched places like Venice Beach, Hollywood, Rodeo Drive and so on. Obviously so much of it is an unreal world but we found that the city is an interesting place and the freeway system that links this vast conurbation is, once you use it, excellent and not the frightening roller coaster we arrived in on. Without a car though one is stranded in L.A. and until we hired cars it was a miserable place confined to the immediate waste land of hotels around the airport. When John's wife, Margaret, and daughter Julie and grandchild Jon arrived I headed off in the car I hired that day. Thanks to films, traveling the roads of the United States is all part of our psyche now out there on them was as enjoyable a part of this world trip as anything I've done. While John took his family to Disney Vegas and Palm Springs, I embarked on a hectic 4000 mile odyssey that took me through eight states. Leaving L.A. I headed first for Los Vegas and as I arrived there late at night it was an appropriate time to see this neon oasis. My arrival coincided with a NASCAR race with the result there was no room in the inn but if ever there was a place to be able to kill the night Vegas is it. I eventually slept for a couple of hours in the car park of the Stardust before heading off around it again. It's a fascinating place to visit and somehow Elvis's connection seems to sum it up for me, tackiness mixed with brilliance. After a few days there it was time to hit the road so ignoring W.C.Fields advise I headed east towards Arizona.
| | |
| --- | --- |
| Margaret & Jon in Vegas | The Mirage hotel |
Not far beyond Vegas lies the Hoover Dam which harnesses the might of the Colorado River and is an impressive piece of American engineering. When at the waterfalls at Foz in South America we had visited the biggest dam in the world, Itaipu on the Paraguay river but this one I liked better. Again as with coming into the country I was surprised at the lax security check as I drove down to it. Heading across it I followed Route 40 into Arizona. This highway has effectively replaced the fabled Route 66 but every now and again sections of it remain and I availed of these opportunities to drive along it through small sleepy villages like Ash Fork which epitomize the hidden America and which I loved. Another town on it and where I spent an enjoyable night was Flagstaff. Names like it and Mexican Hat roll off the tongue from countless cowboy films and gave a context to all I had seen on the silver screen. What I loved about Middle America was the slower pace of life the cooler weather after so much time in the heat and the endless landscape and roads under an equally endless blue sky. Some days I would just drive all day into the late night just savoring the landscape around me and the sensation of being on the road.
| | |
| --- | --- |
| Indians in Palm Springs | John's family Las Vegas |
| | |
| --- | --- |
| More Indians Palm Springs | Vegas at night from our hotel |
The Grand Canyon was as is appropriate to America, on a big scale but the thing that lingers most with me from that day there was on the way up to it I passed through this valley that was covered with snow and the whole place was just so peaceful and special and indeed all of Arizona had that feel. From the Grand Canyon I made my way to Monument Valley so often the location for Westerns and it was easy to see, when there, why this was a sacred place to the Navajo. I then headed across southern Utah towards New Mexico. From there I headed north into Colorado and then back again into Utah. All this area is a region of vast open country with little or no population and yet it was anything but empty. Salt Lake city was an amazing place to have sprung up in this location and a testimony to the Mormons. Their involvement seems to greatly influence the city and there were many aspects of it that were admirable. At the temple in its centre three of their woman came up to me trying to convert me but I'm afraid they soon tired and left me free to look around the beautiful buildings in the compound. Half way up through Idaho I realized as I headed towards Montana that I would run out of time by trying to see too much so I cut back through Wyoming and made my way back west again. Along the way I stopped at the salt flats in Bonneville to go for a drive on it and I also drove around Lake Tahoe which was almost blocked with traffic coming up for the weekend. I eventually hit the west coast again at San Francisco.
| | |
| --- | --- |
| Julie Jon Margaret in Las Vegas | From our hotel at night |
Far more intimate than the sprawl of L.A. where a car is a sine qua non it is quite easy to walk around this city, a thing I love to do as it gives you a great feel for a place. Needless to say I also took one of the tours available and went to all the famous places like the Golden Gate Bridge, Hait Asbury and so on. Regarded as the best city in which to live in the States, it certainly is less frenetic than Los Angeles and still retains a ghost from the flower power era. Heading south down the fabled Pacific Highway 1, I had been told that it was anti-climatic from the point of view of scenery but I was pleasantly surprised as I found it an enjoyable drive. Having breakfast on Canary Row with a flat calm morning ocean as a backdrop or driving along the coast in the early hours as the mist rose off the sea linger in my memory of it. Certainly though I would not describe it as others have as the greatest coastal highway in the world but it is great. Pebble Beach is exclusive to the degree that you have to pay to drive through its 17 miles of golf courses and mansions that rival anything in Hollywood and it is one of the best parts of this coastline. In Carmel I called into the old Spanish Mission and it brought back the link with Loreto where we stayed on the Baja as it was from that old capital that they arrived here. South of San Simeon and the Hurst mansion(s), the landscape gives way from mountains running down to the sea to rolling hills and fields full of dairy herds. Back in L.A. I caught up with John and his family who had a great time between Vegas, Palm Springs and Disney. No doubt it was hard for John and Margaret to part again but at this stage we were now on the return leg of our journey, having come to the half way stage.