THAILAND
NEPAL

INDIA
Translate this page:
You can translate the content of this page by selecting a language in the select box.
Katmandu Temples
Thankfully we managed to get to Katmandu before the end of May for the conclusion of the celebration of the 50th anniversary of the conquest of Everest, though there always seems to be a festive mood here and it is a fascinating city. It seems to have changed little since last I was here other than there being a lot more traffic and the open sewers on the side of the streets are now covered in. It still has a charm however in the bustle of its unlit night streets that reminded me of Lilongwe when we were going through Malawi. Yesterday while walking along by the streets of Thamel I spotted Edmund Hillary in a state car so that was a nice memory. The city itself with its congested streets and old cars is very polluted and the Thamel area where so much is happening is therefore the best place to stay as it puts everything in walking distance. We got a very good hotel at a reasonable price so if you're here than the courtyard on Z-Street is worth checking out.(www.hotelcourtyard.com) While we plan to go on a tour of the city itself tomorrow, we already have taken a break from it and headed up to the mountains for a while where we appreciated the slightly cooler weather. It has been far hotter here than we expected though hopefully the monsoons will come soon to cool things down. So far, however, other than for the day on the road up to Bangkok, there has been no sign of them. We certainly hope that things cool a little by the time we hit India as over 1000 have now died in heat-waves there and today we were arranging our visas so that we should be heading across the border over the next week or so.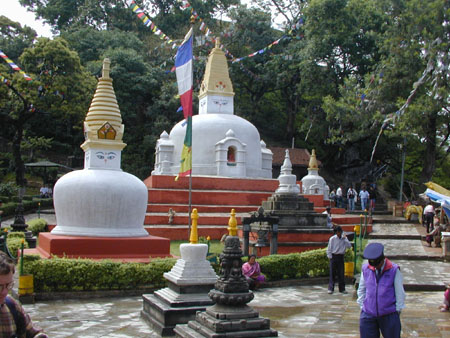 Katmandu Temples
While waiting on our visa for India we also applied for Pakistan. Bob who had been so much a part of our Americas section of the trip is regularly in contact with us passing on information gleaned from the websites and told us that it would be advisable to get both Pakistanian and Iranian visas as early as possible. Unfortunately there is no Iranian representative in Katmandu but we did secure the Pakistanian visa now also. As regards Bob you will remember that he took a break back home in Dubai before tackling the second leg of his journey from Ushuaia to Prudhoe Bay the most northerly point by road in America. Both he and his friend Graham from England set out in early May but impossible weather conditions forced them to turn back. John and I were really put out that they didn't make it as Bob's journey was as much a part of our own that his completing it felt like it was an integral part of us completing our trip. I can assure you though that if it was possible to do Bob and Graham would have done it as it was not from lack of ability. Nonetheless to have traveled the length of North and South America to be turned back by terrible weather within only a couple of days of completing it is such a pity. Having got our next 2 visas secured we meanwhile decided to head out of Nepal.
Katmandu street traders
Before leaving, however, we managed to see a good bit of the country. As I said Katmandu is a fascinating place that has changed little in the intervening decade since last I was there. I don't wish to over-idealise it though as there is terrible squaller and poverty in its streets also that is heart-breaking. We managed to get a good guide, Diwakar Gautam (diwakargautam2@hotmail.com)to show us around and coupled with the couple of days up at Nagarkot it was a relaxing stay. Another excellent guide I should mention is Bhagwat Simkhada and he can be contacted at bhagwatsimkhada@hotmail.com. Carrying on my craze for light aircraft flights I also flew up to Everest itself. This whole region with the clouds looking like a field of snow beneath the towering peaks is an awe-inspiring sight that is hard to forget and worth the trip I would suggest. We eventually left Katmandu on the morning of Saturday the 7th.of June or rather had intended to as the best laid plans of mice and men. When we went out to our bikes that morning John's wouldn't start. Initially we thought it was lack of fuel since there was very little in the tank after the air flight as the law does not allow fuel. Having satisfied ourselves that it wasn't we looked at the H.T.leads which were damp. Upon drying these, however,we now found the battery was dead from all the turning over we had done. The eventual outcome of all this was that by the time we got a jump lead it was 10.30 by the time we got away. We already had gotten an idea of what travel was like coming in from the airport to the hotel with the bikes and now we were subjected to it for real. In a word it is dangerous and you have to be constantly alert for the very real possibility of meeting 2 oncoming buses around every bend. That the road leading South West from Katmandu to India is over a mountain pass and therefore narrow and sinuous only compounded this problem. Nonetheless we negotiated the chaotic traffic of the city and had crested the mountain when John signalled to me on the intercom that his bike had gone dead. He coasted down the hill to the nearest available lay by where we realised that this time the problem was an electrical one we couldn't solve.
Katmandu temples
This was the first time on the entire trip that we had been left stranded on the road by a mechanical problem so it was perhaps par for course. Having asked the locals, who gathered around us, as to where the nearest mechanic was I rode down the road some 5 kilometers to get him and he found two wires were rubbing in the electrical system which was shorting out. We eventually got on the road again after another couple of hours in all and coupled with the slow pace of the road, due mostly to the precarious nature of the traffic, we only managed to reach 100 kilometers beyond Katmandu that evening when tired and weary we happened on the Dalima Hotel just before the town of Mugling. The hotel, which is half way between Pokera and Katmandu was a welcome sight to us and upon riding through Mugling the next day we realised it was also the best possible place to stop as the town itself is anything but promising and looks like the same old wild west outpost I remember it as last being. Giri Sant B who owns the Dalima couldn't have made more of us as guests and even put on a display of local folk dance especially for us which on the lawn of the hotel by the light of an open fire was pure magic. If your on that route and happen to need to stop in that area then check it out on www.dalima.com tel.977-1-219172) The following day was a far easier ride as refreshed and with no mechanical problems to contend with we headed for Lumbini, the destination we had hoped to reach on the day when leaving Katmandu. Initially the road was typically slow as it wound its way along a river gorge which I had recognised as having once done white water rafting on but once we got down on the plains the road became less crowded and open and we made good progress in ever increasing temperatures through a landscape that was virtually indistinguishable from India whose border we were now hugging. On reaching Lumbini and looking at the accommodation on offer we decided that throughout this leg of the trip now we would stay in 5 star hotels for, while dear, they were at least our best possibility of keeping any illness from poor food or sanitation at bay. In the sweltering heat of the plains then the air conditioned comfort of the Lumbibi Garden Hotel seemed worth it and it was only in the evening that we explored the place itself which is the birth place of Sidhartha, the Buddah. Along with the ancient site marking the nativity spot there is also a huge complex of Buddhist temples from all over the world that create an international site covering some 3 square miles.
THAILAND
NEPAL

INDIA
Body cremation site