Horizons Unlimited The one stop website for motorcycle travelers. Excellent monthly newsletter.
The BMW Club The Club Website.
BMW Club - Ulster Section The Ulster Section Website.
BMW Off Road Course The Off Road Course Website.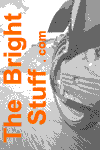 TheBrightStuff The website of Chris Bright - another world traveller.
BMW R80GS Excellent R80GS Website.
Twin Adventurers A Group of fellow travelers Website.
Andesmoto Tours Our good friend and fellow adventurer Ricardo Rocco's website