BRAZIL
ARGENTINA

USHUAIA
Translate this page:
You can translate the content of this page by selecting a language in the select box.
Bob West joined us to ride to Ushuaia
| | |
| --- | --- |
| Agustina & Gabriel friends we meet in B-Aires | Bob& gabriel who joined us in B-Aires |
We left Sao Paulo on the last day of November and headed north along the coast for Rio de Janero stopping along the way in Ubatuba a delightful place on the Tropic of Capricorn. After Rio we headed south- west for the Falls of Iguacu which straddle the Argentian, Brazilian border and are next to Paraguay. Along the way we stayed in Sao Paulo and Ponto Grosso. The falls at Iguasu are perhaps the most spectacular in the world as can be seen from John's photographs and we viewed them from both sides while staying on the Brazilian side in the town of Foz de Iguacu. We also took the opportunity while there of visiting Paraguay as the three countries converge here. After seeing the falls we decided to head for Buenos Aires cutting down through the panhandle of Argentina that juts up between Brazil and Paraguay. This area, which was richly forested, almost rivaled Ireland for the variety of greens. At a lunch stop along the way a boy named Max, who had excellent English, came over to us and was fascinated by our journey so we told him we would mention him on our web-site. As we headed down towards Buenos Aires we cut into Uruguay at Salto. Here we encountered far more gauchos than we had seen on the Argentinean Pampas. Arriving in Buenos Aires our first priority was to get new tire on, which Peter from Bridgestone has been supplying us all along and it must be said at great cost to them because of the cost of transport.
| | |
| --- | --- |
| Another tango dancer in Boco B-Aires | Boca district B- Aires |
| | |
| --- | --- |
| Boca district B- Aires | Boca district Buenos Aires |
Buenos Aires impressed us both as one of the best laid out and impressive cities that either of us had ever been in. This favorable impression was no doubt helped by the generosity of two wonderful people who showed us around. While up in Canada last year John had met Gabriel and Augustina on their honeymoon and they swapped addresses. On arriving in Buenos Aires John contacted them and to say they went out of their way for us would be an understatement. Another very important person who came into our journey in Buenos Aires was Bob West. Bob, who is from Nottingham but who currently resides in the Emigrates, had been in contact with John through our website with a view to joining us for the Buenes Aires to California leg of our journey. A very experienced biker who as those who live in Dubai will know Bob is not only a first class person but also, like John, a great mechanic which makes for a great companion on a trip like this. Together then the three of us left Buenos Aires bound for Ushuaia in Tierra Del Fuego on the 18th January. To show you what I meant by Gabriel and Augistina's helpfulness Gabriel led us out through the city on his Honda 1000 taking a day off work and not alone did he lead us through what is the confusion of a city for strangers but also he went that extra mile coming some 400km before heading back home. That day, which started out in glorious sunshine, turned out to be the wettest of our entire trip.
| | |
| --- | --- |
| Iguazu Falls Argentina | Iguazu Falls Argentina |
| | |
| --- | --- |
| Iguazu Falls Argentina | Iguazu Falls Argentina |
| | |
| --- | --- |
| Iguazu Falls Argentina | Iguazu Falls Argentina |
When we came north to Brazil from Cape Town we had gone into the wet season there but apart from a downpour in Sao Paulo and a wet hour on the way to Foz we had been rain free. Crossing the Pampas as we headed south to Bahia Blanca, however, the skies opened and it was spectacular as we rode through such vast countryside with lightning all around us. That ,though, has been one of the few rainy occasions we have encountered and as with Africa our luck continues in that respect. As we made our way along the coast of Argentina we stopped over on the Valdes Peninsula. This is an area of great marine wildlife where seals, penguin and whales abound around its coast. While the lads took off on the bikes to look at the coastline I went for a boat ride out into the bay in search of whales. August and September are seemingly the ideal months for the whale watching but even in December there was plenty for us to see. It was a moving experience watching these gentle creatures so close up but the real magic was when the boat-handler put his hand in the water and the baby Right Whale who had been with her mother came over to the Zodiac and started to play with us. She even lifted her head and body totally out of the water to let us stroke her. The only other experience like that I have had has been diving with Fungie, the dolphin in Dingle Bay back home in Ireland. It really does make you aware that animals are more than mere beasts of burden or food and that we should consider that. From The Valdes Peninsula south you are crossing Patagonia. This is a vast and endless landscape that is forever windswept. Both John and Bob found this a monotonous leg of the journey but I find every landscape fascinating, even this, maybe because I'll never likely come this way again. Just a few kilometers south of Rio Gallegos the paved road runs out till you reach the Chilian border. Again on crossing the Magellan Straits, it reverts to unpaved roads. Initially I tackled this with great gusto following, albeit at a distance in Bob's tracks. I must explain here that Bob is an experienced off-roader, even having been the chief scrutineer for the Dubai Rally so even keeping him in sight was for me an achievement.
| | |
| --- | --- |
| Iguazu Falls Argentina | Iguazu Falls Argentina |
Iguazu Falls Argentina
| | |
| --- | --- |
| Max who was interested in our bikes and web site | The road to Ushuaia |
The road to Ushuaia
BRAZIL
ARGENTINA

USHUAIA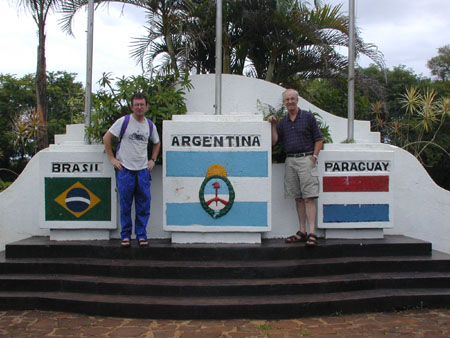 Were borders meet!