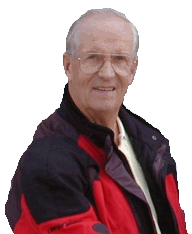 John is a 65 year old retired businessman from Belfast.

He has traveled most of Europe and America on a motorcycle.

His biggest challenge to date was his trip to Alaska, last year.

Some 14,000 miles and three months on the road. Certainly a good precursor to what lies ahead of him over the next year.

Just back from a demanding offroad skills course in South Wales. More details HERE.

Gerry is a 45 year old school teacher from Roscommon.

He has traveled all of Europe, lived in the Middle East, been to the Far East and parts of Africa, not forgetting Nepal.

John and himself have just come back from the BMW OffRoad Skills course in South Wales.

More detailed pictures of Gerry's bike HERE and also some of his reasons for doing the trip HERE.